About First Area FCU
The First Area Federal Credit Union is a unique financial institution. We are member owned and not-for-profit. Unlike banks that are strictly profit-driven, we return excess earnings to our members by providing better personal service, lower interest rates for loans, higher yields on savings accounts, new products and services. We invite you to take advantage of the many financial benefits of Credit Union membership.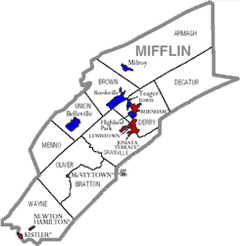 First Area Federal Credit Union was organized in 1961 as AVC Federal Credit Union, but after the flood in 1972, the Viscose plant closed and we applied for a community charter. Now anyone living or working in Mifflin County is eligible to join First Area Federal Credit Union, except for those persons eligible to join Standard Steel Employee Federal Credit Union.
One of the big advantages to belonging to First Area Federal Credit Union is the chance to have payroll deduction of savings. This is the easier way to save. Your deposit is deducted from your paycheck and sent to the Credit Union. Any money you have in savings is insured up to $250,000.00 by NCUA (National Credit Union Administration) an agency of the federal government, the most secure of the insurance funds, and the dividend we pay on savings is competitive with other financial institutions.
The Credit Union offers new and used vehicle loans, home equity, personal and share secured loans. Loans are granted on a daily basis by a loan officer. Our rates are all simple interest. If you meet membership requirements, you are eligible to apply for any of our low cost loans.
The Credit Union offers a share draft account. This account is similar to a checking account, but requires no minimal balance, other that a $2.00 monthly service charge deducted out of your account the last day of the month. You will receive a monthly statement with this account.
We also offer VISA credit cards with no annual fee and a 10.9% APR.